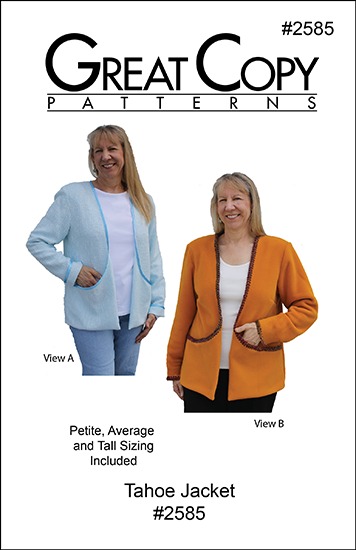 A good jacket is the pillar of any wardrobe and constructing one is easier than you think. The Bristol Jacket from Great Copy Patterns is a semi fitted jacket that features a wing-style collar, two front pockets and optional turned back cuffs. Sizes Ex-Small - XX Large. The Tahoe Jacket is the definition of easy with only three pattern pieces and bias trim. Sizes Ex-Small - 3X.
Class will begin with measurements to help you determine the correct size. Try-ons will be available to aid in selecting the correct size as well as any pattern alterations that are needed. Jacket construction includes layout, cutting, stabilizing facings, seaming, and hemming.
Bristol or Tahoe Jacket Supply List:

___ Great Copy #2420 Bristol Jacket pattern OR Great Copy #2585 Tahoe Jacket

___Sewing machine in good working order that you are familiar with, foot control, basic presser feet, zipper foot, machine manual, bobbins,
Note: A serger will be available for seam finishes in basic colors

___Edge/Lace Joining Foot

___Size 80 needles - Universal as per your fabric

___Thread

___ Misc. Sewing Notions: pins, seam ripper, tape measure, ruler,
Other notions as per pattern

___Scissors – for both fabric and paper

___Fabric Glue Stick

___Pencil

___Disappearing fabric marker, chalk or Frixon Pen
___Fabrics (pre-treat fabric before class)*, Notions and Serger Thread per pattern
___Fusible Interfacing – For most fabrics Pellon Shape-Flex works well
___Press Cloth

*Suggested Fabrics: Lightweight to Midweight woven fabric such as denim, linen, suiting, twill, doubleknit. Tahoe Jacket is made from reversible fabric such as suiting, chambray, linen.
Contact Pattie at info@greatcopy.comif you have any questions.

Optional:
___French Curve
___Lunch or Snack